Cheap Car Insurance Greensboro NC
Cheap car insurance with low down payments and low monthly payments in Greensboro NC is available .   This includes vehicles of all kinds, makes and models.  We're always ready to provide what you need.  Call Tiffany at our Randleman Rd location now at  (336) 275-0094.
Want to hear it broken down in about a minute by our AI video assistant?
Just click the Play '>' button below.
We've had many awards over our 80+ years of serving North Carolina drivers. We're happy this year to receive the #1 Best Rated Award for the Best Auto Insurance company in Greensboro NC from Quality Business Awards.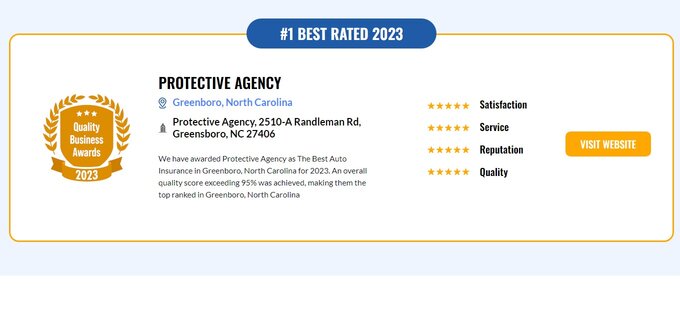 Looking for Greensboro NC cheap car insurance with low down payments? You found it!  Quality car insurance plus other auto insurance including truck insurance, motorcycle insurance, RV insurance, scooter insurance, SUV insurance, commercial truck insurance and commercial car insurance has been provided by our comparison agents over eight decades.  We research, you decide. For low down payments, call now at E. Bessemer location: (336) 274-1211 or Randleman Road location: (336) 275-0094 or  email us and of course, stop by the office convenient to you!
For over 80 years (1939 – 2019) the insurance professionals at Protective Agency have been honored to service the busy folks in Greensboro and are pleased to continue to offer our neighborhood residents, and businesses with affordable insurance solutions that include exceptional financing options. To obtain the best possible auto insurance in Greensboro, as well as homeowners, renters, and business insurance. With Greensboro being the third largest city in North Carolina, the Protective Agency provides two locations to better serve our customers. Greensboro is the county seat in Guilford County and boasts a population of over 280,000 residents. We encourage you to stop by or call the office most convenient to you.
Cheap Car Insurance And Auto Insurance
Our experienced office staff members are eager to provide the coverage you or your business will need including:
Auto Insurance: Whether your driving record is impeccable or tarnished, the licensed agents in Greensboro will provide choices specific to your needs and your budget. Our agents will search for the most affordable auto insurance in Greensboro with the lowest possible monthly payments.
Motorcycle Insurance: When it comes to motorcycle insurance solutions, our trusted professionals in Greensboro are determined to meet your needs. Our motorcycle policies contain liability, property damage, comprehensive and collision, and many other optional coverages that allow us to design a comprehensive policy to cover your investment and your liability.
Renters and Homeowners Insurance – If you are buying or renting your home, the insurance professionals in Greensboro are expertly trained to discuss all available coverage for your homeowner's or renter's insurance. We promise to provide financial protection for your residence, your belongings and your liability exposure.
Commercial Insurance – The licensed agents in Greensboro are uniquely qualified to discuss the available coverages for commercial auto insurance to help you make an informed decision for your business. Whether you are a one-person contractor or an established business with multiple vehicles and drivers, the Greensboro agents are prepared to design the most favorable and affordable commercial vehicle policy specific for your individual business needs.
Low Down Payment Priority!
Use our research team to help you find your best cheap car insurance for the lowest down payment. Service before and after the sale is what preserves long term relationships, and to that end, our licensed professionals are committed to that guarantee. When policy changes are needed, or a payment requires immediate processing, call our office for outstanding service from our staff.
Insurance Claims Service
The professionals at Protective Insurance Agency and our partner companies understand that insurance is a promise to pay when the unexpected happens. No matter the circumstances, we intend to help you navigate the claims process and get your claim resolved according to the terms and conditions of your policy.
For great rates and exceptional customer service, call our East Greensboro Office at (336) 274-1211 or our West Greensboro Office at (336) 275-0094 or, if you're new to North Carolina or not sure of the location nearest you, visit us online at ProtectiveAgency.Com